HOW CAN SILENCE LEAD US TO A MORE SUSTAINABLE WORLD?
If you want to save the world, you must also deal with your inner world. If you want to achieve purposeful goals, you must take care of your biggest asset: your mind. So, don't just do something – just sit there!
THE SILENT DRIVERS OF SUSTAINABLE SOLUTIONS

When Laura Storm, an internationally recognized WEF Young Global Leader and executive director of the green think & do tank Sustainia, suffered a severe concussion and whiplash after a fall, this did not only put her sustainability work on hold.
It also forced her to change her life and enter a new chapter of her personal and professional sustainability journey.
THE SURVIVAL KIT FOR SUSTAINABILITY LEADERS: NATURE & STILLNESS
Today, enjoying life, prioritizing stillness and tapping into the intelligence and wisdom of Nature have not only become Laura's personal life principles. They have also become key to creating sustainable business solutions for the benefit of people, planet and profit.
As Laura explains: "If you want to save the world, you must take care of your biggest assets: your mind & your soul. I truly believe that if CEOs prioritized time to connect with themselves and the planet they inhabit, we would see a radical shift in mindset and business practice."
GET KEY ADVICE FROM LAURA STORM
Laura Storm was one of the key note speakers at the miniconference on  "Purpose, Passion & Personal Sustainability" in The Social Business Club.
At the miniconference Laura Storm shared her personal story and explained why she believes integrating nature, meditation and silence into our personal and professional lives, will be a key sustainability driver.
She also shared how she inspires leaders to take the next steps towards a sustainable business future, building on generative principles, circular economy and conscious leadership.
Get key insights into how Laura Storm works with Purpose, Passion and Personal Sustainability in this video interview: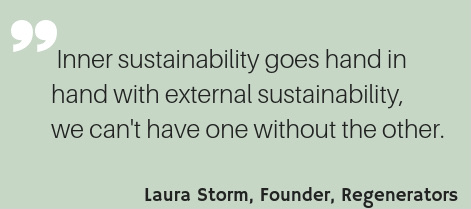 During the miniconference participants and key note speakers discussed, networked and exchanged experience and ideas on how you can integrate purpose, passion and personal sustainability into your business and (work) life.
Get more insights and concrete inspiration from the other key note speakers:
THE SOCIAL BUSINESS CLUB
The Social Business Club is an open international network forum for professionals from around the world with an interest in innovative and sustainable business practices that create value for society and the bottom line – from CSR and social entrepreneurship to social innovation and shared value. The network is hosted by Tania Ellis, founder of The Social Business Company.